Australia: THAT'S A WRAP!
When we last left each other, it was September...and incase you hadn't realized - IT'S NOW OCTOBER. I feel like the last two weeks have gone by in the blink of an eye and I'm all like ...
Quite literally, that is me right now as I sit here typing. Mmm ok, maybe a bit less facial hair, just a bit. 
Anyways, so we last left off in Brisbane, and boy oh boy we really lucked out! We were just in time to catch the last day and night of the Brisbane Festival - complete with FIREWORKS! Not only that, it turns out that Brisbane is actually a pretty nice city for strolling around in, plenty of beautiful gardens and interesting buildings to enjoy, lots of cute cafes and if you're lucky, you might just see 20 guys on a stag do all dressed in jerseys (with their appointed nicknames on the back, of course) pounding back pint after pint at 10am...aaah the city. James and I hadn't had much for breakfast, and felt it completely necessary to stop for a large iced coffee, ham and cheese croissant, and a heavenly early morning dessert - because we're on a vacation...of sorts. Me: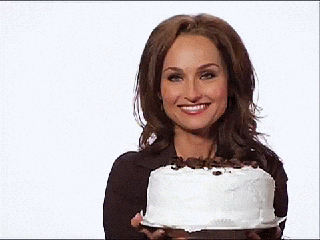 After thoroughly enjoying every last bite, we were in the mood to walk some of it off, and made our way to the botanic gardens in the heart of the city. A beautiful oasis of birds, flowers, fountains, sculptures, and lizards, that makes you forget you're even in the city and a great way to spend a couple of hours. 
Later in the day, James and I were meeting up with a friend of his from back home, Tom. Tom has lived in Australia for a handful of years now, and it only seemed fitting to catch up over a few drinks at a place called the Bavarian Bier Cafe, because when you're in Australia, you eat and drink German? As it turns out though, it had a great view of the harbour and bridge where some of the fireworks and festivities would be taking place. As the sun started to set and we made our way outside, military helicopters began performing areal routines, jets began to fly overhead, and the show was about to start - RIVERFIRE! A 20 minute show and a great way to complete our very short but sweet time in the city. 
The next morning we awoke to moody skies and rain in the forecast for the next couple of days. With our bags packed and a few destinations in mind further north, we set off with the smell of rain stinging our nostrils. On the docket for the next couple of days were the following: Noosa Heads, Rainbow Beach, and Hervey Bay. We had heard good things about these places and were looking forward to exploring them for ourselves. 
When we arrived in Noosa, we had again lucked out and managed to catch the Noosa Beach Classic Car show, which had well over 100 cars sitting pretty and ready to be judged, everything from Asian models to Porsches. P.S I literally know nothing about cars, I judge strictly on colour combination and followed behind James like...
 We took a stroll through the busy shopping and eating district, took a quick look at the (BUSY) beach, and made our way back to Norma. We still had some ground to cover in getting to Rainbow Beach and then to the campsite we were aiming for that night, so off we went! Once we had made it to Rainbow Beach we were both a little disappointed, I guess you could say. There wasn't much going on in the area, and the beach looked just like the others we had seen (maybe even worse as it was starting to get stormy by this point). However, the drive to Rainbow Beach was pretty neat; tree farms lining both sides of the road for miles, along with deep red dirt and moody skies made for some fierce colour schemes. What is that phrase, "sometimes the journey is better than the destination"? I suppose that is pretty fitting for the situation. With that, we backtracked to our campsite for the night and hoped for clear skies the following day. Unlucky. Raindrops began to fall shortly before leaving the campground and didn't give us much hope for the rest of the day.
Once getting into Hervey Bay, we decided to stop at the info centre and see what they could suggest for some rainy day activities, "we literally get one day a year of rain and you happen to be here on that one day" - YES, THANK YOU. The only thing that they could suggest was ten pin bowling or the movies. Neither of those sounded particularly attractive, so we bought some groceries and began a slow drive to our campsite two(ish) hours away, where we played hours of cards and watched an old man accost fellow campers as they tried to dodge the rain in the covered picnic area. Aaaah, rainy days in the middle of nowhere.
The next day we had decided that nothing would stop us from our adventures. We were off to Mount Hay, an extinct ancient volcano where you can go fossicking and look for THUNDER EGGS! (I can only type that in capitals, it deserves nothing less). To have the Mount Hay website describe them, "When it was a rumbling volcano millions of gas bubbles were present in the molten rhyolite lava .. it is these gas 'pockets' that became thundereggs. Thundereggs or volcanic birthstones are the result of these "pockets" filling with siliceous liquids containing impurities and trace elements, which crystallize as they cool, and when cut in half, reveal many different colours and patterns."
BEHOLD, OUR FINDS:
We were the only people there which made for such an enjoyable few hours. One of the employees, Don (or as I call him, Rock Doc Don), treated us to some really educational lessons about the area and different gemstones that can be found, we didn't want it to end. 
The next day was spent making our way to Airlie Beach, our gateway to the Whitsunday Islands and Whitehaven Beach:
I only took a handful of pictures over the course of our time there, as I really wanted to just remember the day through my own eyes and not so much through a camera lens. We spent the day taking a fast boat (no seasickness today, thanks!) to the lookout point (above), a snorkel spot (where James promptly lost his snorkel & mask to the depths of the ocean - why don't these things float?), and then to Whitehaven Beach for lunch and tanning, yes please. 
After a couple of days enjoying some of the nicest beaches in the world, we were again headed north, making our way to South Mission Beach in search of CASSOWARIES! We made our way to a campsite near the beach that is known to have cassowaries throughout the park on a regular basis, it's also where your worst nightmares come true:
Luckily, no spiders made their way into our van over night and the biggest one we saw (the size of my palm-ish) kept to himself as well, thank you, mr. arachnid. The next morning as we were packing up, we heard something of a decent size making its way through the rainforest, crossing our fingers that it wasn't a (wo)man eating spider, we braced ourselves and saw - A CURIOUS BABY CASSOWARY! He was not particularly interested in having his photo taken and was on the hunt for breakfast (I can only assume). I managed to get a quick pic and enjoy his presence as he made his way around the van. 
 
After all of the excitement had died down, we hit the road making our way to Cairns, our gateway to The Great Barrier Reef.
When arriving in Cairns, we first made our way to one of a bazillion excursion shops to book our Great Barrier trip for the next day, and from there to the information centre where we had some business to attend to. About 38 (ish) years ago, my auntie Leigh lived in Cairns, calling 233 Aumuller Street home and working at a couple of different restaurants in the city. While we weren't lucky enough to find either of those restaurants, we were able to find her old casa, still standing. I snapped a few photos and was greeted by a fairly unfriendly man who was, understandably, curious as to why I was snapping these photos. I explained to him that my aunt used to live in the house and the pictures were just for fun. He gave me a quick thumbs up and disappeared back into the house. Thanks mate. 
Our excursion started at 9am the next day. Armed with motion sickness pills AND wristbands, I truly believed that I was ready for anything. Turns out, not so much. I was sick twice, but James was a champion, he fed me cookies and made sure I always had water, what a guy <3. ASIDE from that, we had a great time! The first spot was amazing, reef for as far as the eye could see. This was also where James did an intro into diving! They spent about an hour learning the skills and completing their dive. James loved it so much that he's wanting to get his open water certification as soon as possible. (P.S I've tried diving before, it wasn't my thing. I enjoy just being on the waters surface, thank you, though). The second spot was fairly shallow in comparison, but it was also where Sandy Cay was - LAND, GLORIOUS, SANDY, BEAUTIFUL LAAAAND! We snorkelled around for a bit, but with me still not feeling great, I nearly beelined it for the cay and James followed shortly after. From the cay we spotted 4-5 turtles swimming around in the warm waters, enjoyed some sunshine, and shared friendly stories with others on the excursion. 
After a successful couple of days swimming among the reef and fish, we were finally headed South this time and made our way to Bingil Bay for a relaxing night of sleeping next to the ocean and enjoying a quiet beach, where the rainforest meets the reef. 
 The days following were a series of quick stops here and there as we had to complete a nearly 1700km journey over 6 days - a looooong and fairly boring journey, I must admit. There really isn't a whole lot other than sugar cane fields and burnt forests on the road from Cairns to Brisbane. See below:
At long last we sit at our hotel in Brisbane after dropping Norma off, preparing our things and reminiscing over a month of exploring some of the greatest things that Australia has to offer. The rain has once again started to fall, but the coffee and (real) bed are warm. Thank you, Australia <3. 
And thank YOU for reading! Tomorrow we are heading back to Canada for a QUICK MINUTE to finalize James' PR application and then we'll be BACK in the southern hemisphere on the 20th to continue our pursuit of adventure and new places - this time, in New Zealand. 
ONWARD!
p.s feel free to click through some of these pictures that haven't been included in the previous entries and didn't quite fit within the body of this post, enjoy :D 

SaveSaveSave
Please reload